Joni Sternbach is probably the only one I have come across in the past five of six years, that I can call in my eyes a genuine photographer. Joni sets the benchmark for portraits. Although her photographs are only monograph the emotion captured within them is phenomenal. Joni welcomes with open arms the difficulties brought with using old large format cameras along with the wet-plate process in inhospitable environments not meant for such equipment.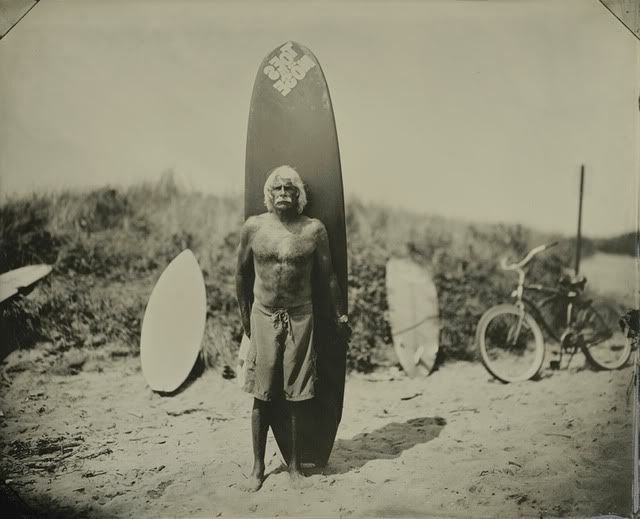 Surfland: 19.08.25 No. 9 Tony
Statement / 8" x 10' Unique TinType. Ditch Plains
Not only is Joni incredibly talented, she is also well accomplished. Her work is part of many public collections including the Museum of Photographic Arts in San Diego, CA and the Museum of Fine Arts, Houston. Joni also won Critical Mass along with Peter Van Agtmael and has had her book "SurfLand" published.
How long have you been in the business of photography?
I have been taking/making pictures seriously since about 1975. I've worked in the field ever since; first at Sotheby's photographing and printing the catalogue art work and later as a professional B&W printer at Portogallo in NYC, printing for the likes of Mary Ellen Mark and Dennis Stock etc.
How did you go about selling your first photograph?
The first photograph I ever made money from was in school--and I won a prize with the Village Voice. The first photograph I ever sold I think was to the Bibliotheque Nationale in Paris, France.The curator then had a small budget for up and commers, like myself and I was lucky to have some early work in their collection.
What initially interested you into photography?
I began studying fine arts at the School of Visual Arts and photography was a required course. It didn't take long to fall in love with the medium.
What would you say is more important Good Knowledge/Good Equipment?
I'd say it's the marriage of the two. One does not work so well without the other.
Which photographer do you look up to and why?
There are so many, I could not choose just one--recently, however, I have been looking carefully at the work of 19th century photographers like Timothy O'Sullivan and Edward Curtis. Different, but similar. I admire both of them and their devotion to vision and purpose.
What genre of photography are you most interested in?
I am most attracted to landscape photography. It's rather interesting to me now as it was not something I was very concerned with as a young photographer.
Surfland: 10.02.15 No. 11 Kassia
Statement / 8" x 10' Unique TinType. Occeanside
What method of photography do you use film/digital and why?
I work with large format film and wet collodion. I can't say I find digital capture a good replacement for what film has to offer.
Do you like that everyone has a digital camera?
To be honest, I don't give a shit. The digital camera is now similar to what the Brownie was years ago--everyone has access to photography and can take a picture. Of course that does flood the world with redundant imagery, but it also opens up possibilities.
What goal are you working towards within your photography and when will you know you have reached it?
My work is really process based and relies more on intuition than intense planning. I suppose I would like to see my work out there and having an impact on people and the world of photography.
Do you find it hard to turn down a day planned with your family at the last moment because of a job put towards you?
I have found many conflicts with family and work. I don't work commercially, so justifying my disappearance during a family holiday has caused some problems over the years.
As a photographer do you class yourself at work 5days a week 9am to 5 pm or 24/7?
Photography does not only call Monday-Friday from 9-5. But wouldn't that be a perfect world. Tide, wind weather--those are the things that call me and they happen over holidays as well. So I would say that I am definitely more 24/7. I work at the studio when I am not out shooting.
What Camera did you shoot "Surf Land" with?
8x10 Deardorff modified to take wet plates
What Kind of development do you use?
ferrous sulphate, an iron developer.
Where was SurfLand shot?
Montauk, NY, all over California and Rhode Island.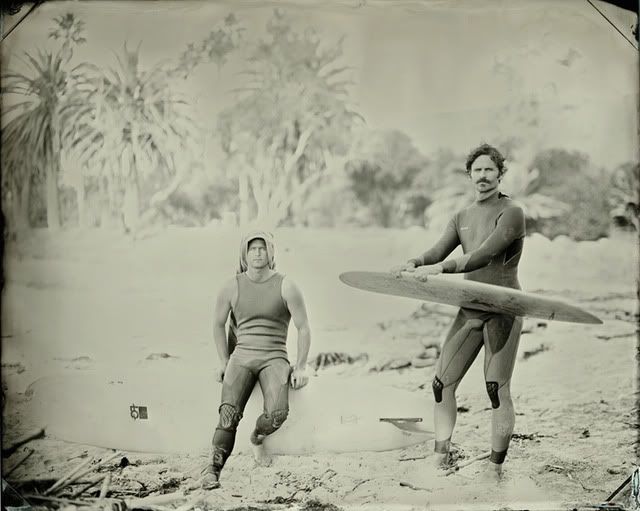 Surfland: 10.02.17 No. 5 Chris & Dan
Statement / 8" x 10' Unique TinType. Refugio
The photographs in Surf Land are not only beautiful pictures but amazing portraits, do you know the people within the pictures?
I know a few people that I photographed but mostly the series is based on random meetings with strangers.
I have also gotten to know people from photographing them and as a result, made several pictures of them over the years.
Is Surfing important to you?
I am not a surfer, but surfing is important to me.
What's next for you?
I've been working on a series of portraits of native American girls at the Shinnecock reservation in Southampton, NY and I have also been photographing in western Utah.
More of Joni Sternbach's amazing work can be found at: www.jonisternbach.com